Step one was to redo Asher's closet and make room for the baby's things. It was a total success and really helped ease my anxiety. Step 2 was to get Asher's big boy bed set up and to move all the furniture around. I am so happy with how their room has turned out. Asher has already made the transition into his big boy bed! He took to it so well and is actually sleeping better in it.

For those who don't know the story I'll quickly fill you in! This pregnancy was not planned. It was a huge shock to us and we had planned that Asher would be an only child. Our home was a complete renovation home. When we bought it, it had 4 bedrooms. 3 bedrooms upstairs and 1 off the living room downstairs. Well Adam and I decided we wanted a bigger master bedroom and knocked down a wall combining 2 rooms to make 1. So that only leave 2 bedrooms up stairs and 1 downstairs off the living room. Our son is only 22 months old and I do not feel comfortable at all with him being down there all my himself.

Originally when we found out I was pregnant we were configuring of how to put the wall back up. We actually decided not to put the wall back up and that we could make it work with the kids sharing. Asher's bedroom is on the smaller side and I was convinced that it would not be possible. But we made it work and I am really happy with the outcome! Eventually once one of them is old enough and asks they will be able to have their own room!

Since our bedroom is so big we were able to move the rocking chair and dresser/changing table into our bedroom. Which will be great when we are up in the middle of the night with her and wont have to disturb Asher.

Before:
​


After:

You can check out the full closet reno here:


Powered by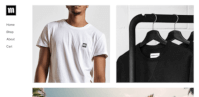 Create your own unique website with customizable templates.